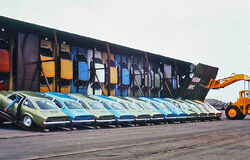 The Chevrolet Vega was designed to be shipped vertically, nose down. Railroad cars named Vert-A-Pac were designed jointly by General Motors and Southern Pacific — each holding 30 Vegas versus 18 in normal tri-level autoracks. Each car was fitted with four removable, cast-steel sockets into the undercarriage. Plastic spacers were wedged in beside the powertrain to prevent damage to engine and transmission mounts and were removed when the cars were unloaded. The rail car ramp/doors were opened and closed via forklift.
Chevrolet conducted vibration and low-speed crash tests to ensure the suspended, nose-down cars would not shift or incur damage in railroad collisions. Chevrolet's goal was to deliver cars topped with fluids and ready to drive to the dealership. To do this, engineers had to design an engine oil baffle to prevent oil from entering the No. 1 cylinder; Batteries had filler caps located high up on the rear edge of the battery case to prevent acid spilling; the carburetor float bowl had a tube that drained gasoline into the vapor canister during shipment, and the windshield washer bottle stood at a 45 degree angle.
Ad blocker interference detected!
Wikia is a free-to-use site that makes money from advertising. We have a modified experience for viewers using ad blockers

Wikia is not accessible if you've made further modifications. Remove the custom ad blocker rule(s) and the page will load as expected.