Due to its front engine-rear drive design, light weight and low cost, the Chevrolet Vega is often modified. A small-block Chevrolet V8 engine fits in the engine compartment; and a big-block V8 will fit with minor chassis modifications. The Vega was not offered with a factory V8 option, although the Vega-based Chevy Monza, Pontiac Sunbird and Oldsmobile Starfire were.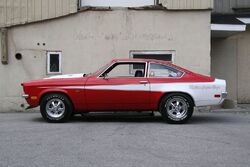 Motion Performance and Scuncio Chevrolet sold new, converted small and big block V8 Vegas. Heavy duty engine mounts and front springs were fitted to support the increased engine weight, a large radiator and modified driveshaft were required. For engines over 300 hp, or with a manual transmission, a narrowed 12-bolt differential was required, replacing the stock Vega unit.
In July 1972, Hot Rod tested a Chevrolet-built prototype Vega featuring an all-aluminum V8. The special 283 cu in (4.6 L) engines were used in a 1950s special lightweight Corvette program, installed in the Chevrolet Engineering Research Vehicle (CERV), an open-wheel rear engine prototype. They existed in limited quantity in '72, and were never offered on a production car or through a parts program. One of the last engines was bored out to 302 cu in (4.9 L) for the Vega application. With 11:1 compression pistons, a "097 Duntov" mechanical camshaft and cast-iron four-barrel intake manifold with a Quadrajet carburetor, the car recorded a stopwatch quarter-mile standing-start time of 13.97 seconds. The prototype had a stock Turbo Hydramatic, stock Vega rear end and street tires. The one of a kind Vega's exterior was electric blue with white GT wheels and side stripes (similar to Yenko Turbo Stinger), white pinstripped hood bulge, spoilers (front and rear), body colored (blue) bumpers, black grill, and side decals similar to the Spirit of America edition from '74. This car was considered for production by Chevy executives for 1974, according to Hot Rod. GM probably killed the idea because of pending projects including the Cosworth Vega and Wankel (rotary) engine.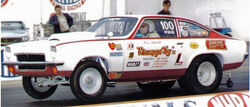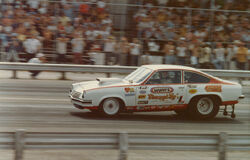 Drag racer Bill "Grumpy" Jenkins in the 1972 season, won six of eight National Pro-Stock division events with his Pro Stock, 331 cu in (5.4 L)-powered 1972 Vega,
Grumpy's Toy X.
In its first event, the untested Vega made 9.6 second passes and won the
1972 Winter nationals.
Jenkins' 1974 Vega,
Grumpy's Toy XI,
was the first full-bodied Pro Stock drag racer with a full tube chassis, as well as the first with MacPherson strut suspension and dry sump oiling. Jenkins' 1974 Vega sold for $550,000 in 2007.

Super Chevy selected Grumpy's Vega one of the 100 Most Significant Chevys Of All Time. SC said, Grumpy's Vega Bill Jenkins' "Grumpy's Toy IV" Vega was the first tube chassis vehicle to run the Pro Stock class. The first time the car ran was at the '72 Winternationals and after tweaking on the suspension a bit he was able to win the event. In '74 Jenkins built another Vega, "Grumpy's Toy XI," that featured several firsts like the use of a dry sump oiling system and a MacPherson strut front-suspension configuration.