Oldsmobile Starfire
1975 Oldsmobile Starfire
Manufacturer
Oldsmobile Motor Division
Parent company
General Motors Corporation
Production
1974–1980
Model year(s)
1975–1980
Assembly
Lordstown Assembly,
Lordstown, Ohio-United States
Sainte-Therese Assembly-Quebec, Canada
Class
Subcompact
Body style(s)
2-door hatchback
Layout
FR layout
Platform
GM H platform (RWD)
Engine(s)
231 CID OHV 2bbl V6
305 CID 2bbl V8 (1977-79)
140 CID OHC 2bbl I-4 (1977)
151 CID OHV 2bbl I-4 (1978-80)
Transmission(s)
3-speed manual
4-speed manual
5-speed manual w/overdrive
Turbo-Hydramatic 3 spd. auto.
Wheelbase
97.0 in (2,464 mm)
Length
179.3 in (4,554 mm)
Width
65.4 in (1,661 mm)
Height
50.2 in (1,275 mm)
Curb weight
2,800 lb (1,270 kg)
Related
Chevrolet Monza
Buick Skyhawk
Pontiac Sunbird
Chevrolet Vega
Pontiac Astre
Designer
Chevrolet Design staff
The Oldsmobile Starfire is a subcompact four-passenger automobile introduced in September 1974, and produced for the 1975 through 1980 model years. The Olds Starfire is a rebadged Chevrolet Monza based on the Chevrolet Vega sharing its H platform. It was the smallest car bearing the Oldsmobile name since before World War II. An upgraded SX model was available, and the GT was introduced in mid-1975.
The first generation Skyhawk is a rear-wheel-drive vehicle with a live rear axle design. Starfire's standard engine for 1975-76 model years was the Buick 231 CID V6 engine using a 2-barrel carburetor that generates 110 hp at 4000 rpm. The front suspension is short and long control arms with coil springs, and anti-roll bar; the rear suspension is a torque-arm design with coil springs and an anti-roll bar. Variable-ratio power steering was standard of a recirculating ball design. The brake system features standard power assist including front disc brakes with solid rotors and rear drum brakes. The Starfire has a 97 inch wheelbase and a 65.4 inch width. The hatchback body style is noted for having a resemblance to the Ferrari 365 GTC/4. The Starfire, Chevrolet Monza, and Buick Skyhawk were among the first vehicles to adopt the newly approved rectangular headlamps.
Model year changes
Edit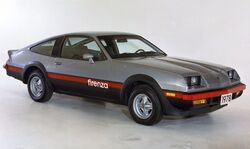 1976 models could be had with the new optional Borg-Warner 5-speed manual with overdrive transmission. Starting with the 1976 models the front disc rotors were of the vented type.
For the 1977 model year, the 140 CID (2.3-liter) aluminum-block inline 4-cylinder engine with 2-barrel carburetor was standard on the base model with the Buick 231 CID (3.8-liter) V6 optional. The GT package included the V6 engine. The Chevrolet 305 (5.0-liter) V8 engine option was added later in the year. The Vega 140 CID aluminum-block L4 was discontinued at the end of the 1977 model year.
The 1978 standard engine was Pontiac's 151 CID (2.5-liter) GM Iron Duke inline 4-cylinder engine with a 2-barrel carburetor, generating 85 hp at 4400 rpm. Late in the year, Oldsmobile added the Firenza package which included special rallye suspension, a front air dam, rear spoiler, flared wheel openings, sport wheels and special paint and trim.
1979 model year saw a face lift, with twin rectangular headlamps replacing the previous quad rectangular headlamp design. The V8 engine option was dropped at the end of the 1979 model year, as was the 5-speed manual transmission.
The 1980 model year was the last one for the Starfire and its derivatives. A total 125,188 H-body Starfires were produced in six model years.
Production ceased December 21, 1979, as Oldsmobile traded H-body production to Chevrolet and Pontiac in exchange for a higher allotment of GM J-cars designated as early 1982 models, including the Oldsmobile Firenza.
External Links
Edit
Ad blocker interference detected!
Wikia is a free-to-use site that makes money from advertising. We have a modified experience for viewers using ad blockers

Wikia is not accessible if you've made further modifications. Remove the custom ad blocker rule(s) and the page will load as expected.